The Batemans Bay Nut Roasting Company Pty Ltd., has been cooking and selling nuts up and down the South Coast of NSW and in Canberra for the past 19 years.
That is if you take into consideration that 19 years ago, we did not even have a name. With the attentive assistance of the Federal Governments  N.E.I.S.Scheme, (New Enterprise Incentive Scheme) we soon became "Nutucopia".
What followed was a rather tumultuous decade or so, until the creation of "The Batemans Bay Nut Roasting Company Pty. Ltd.," affectionately known as BBNRC.   That was around 10 years ago.
From its inception I have always been "The Master Roaster," and I have loved pretty well near 100% of the thousands of transactions I have made over the years.
You may have seen us at Markets.  I with this wonderful display of nuts, and my wife Xia, beside me, with her equally incredible selection of Fresh Water Pearl Jewelry.  Xia is also a Director of the BBBNRC and an integral cog in the Business.
We endeavour to keep everything as simple as possible, hence you may be surprised at the lack of ingredients in our products.
I use Macadamia Oil to roast my range of savoury Macadamias and Cashews.
Come!! Visit us and sample our, "Wasabi and Seaweed," "Honey and Coconut" & "Salt and Vinegar," Macadamias for a start!." Then there are our "Maple Roasted Pecans,"  "Vienna Almonds," and extensice range of Peanuts.
---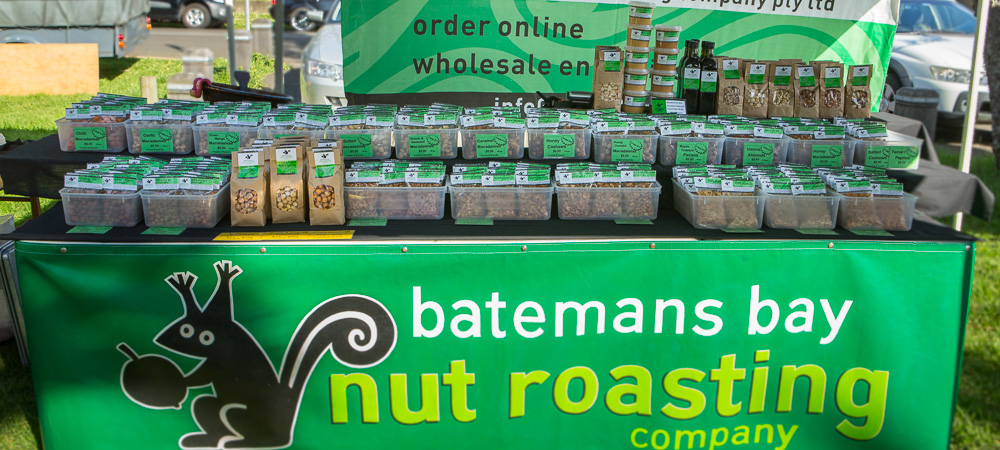 ORIGIN OF KERNEL:
MACADAMIAS: Alstonville NSW
ALMONDS: Loxton South Australia
PEANUTS: Kingaroy Qld! Where else?
PECANS: Moree NSW.
CASHEWS: Vietnamese.
*Cashews are not grown commercially in Australia. Even the results of trial crops held in NT & Qld., are sent to Asia for processing.
Come try the most popular "Wasabi and Seaweed" Macadamia, my "Salt and Vinegar" Macadamia, and my LATEST, The "Honey and Coconut Macadamia! So Divine, I am having trouble to stop eating them!
Then there is my Maple Toasted Pecan, made with 100% Pure (of course) Maple syrup and wonderful Australian Pecans! And seriously, that's just for starters!!
Please say hello, and if you taste, and not buy, a "Thank You" is considered a wondrous blessing.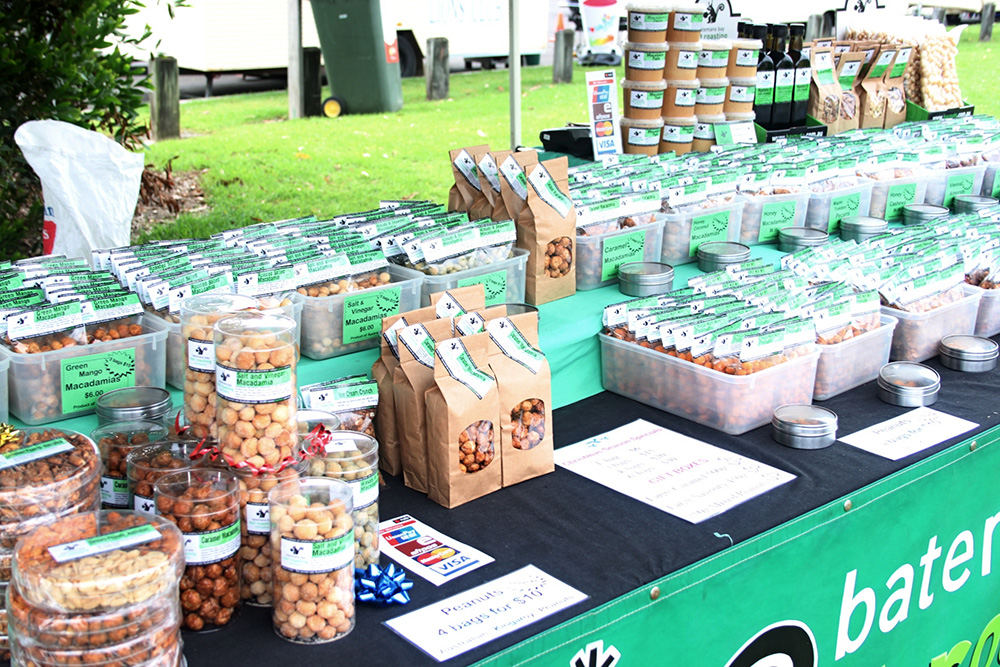 I am The Master Roaster of The Batemans Bay Nut Roasting Company.
I take pride in my product, and I stand by "My Nuts!"
Yes! I know, it is hard not to laugh, but laugh we will!!
Have fun, and Thanks!!
Mark McNamara